Südtiroler Kalterer See Classico Superiore
KLASER Hecht

Alcoholic content: 13 %
Acidity: 4,8 g/l
Residual sweetness: 1,4 g/l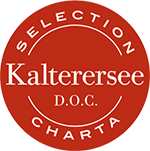 Grapes: Vernatsch in different kinds of big and grey grapes
Age of Grapes: 30 – 45 years
Position:  Barleit and Prutznai, 350 – 400 metres above sea level
Ground:   loamy soil, lime crushed stones
Training-system: Pergola, nature-related, integrated cultivation
Wine growing:
short crushed must fermentation with controlled and cold temperature; biological acid dismantling and growing in steel vat.
Food recommendation:
the ideal "South Tyrolean "for each opportunity, but particularly to bacon and cold plates, starters and also fish. Served light and cool it is an ideal summer wine.
Serving temperature: 12ºC – 15°C
Description
bright and shiny ruby-red; this wine captivates by its elegant and fruity bouquet. While drinking it is light and ends continuous and mineral.
Downloads
The Südtiroler Kalterer See Classico Superiore KLASER Hecht is available for purchase directly from our estate.
Business hours for the sale of wine: Mon.–Sat. 8:00 a.m. – 1:00 p.m. / 3:00 p.m. – 7:00 p.m.
And by appointment.
Here you can see where you can purchase our wines in Germany and Austria »
Grapes for our Südtiroler Kalterer See Classico Superiore
KLASER Hecht

are harvested at these wine-growing locations in Kaltern: